Événements
Free Interactive Webinar: "Digital Transformation (K)now How"
Sidebar
Retour aux événements
Date
20.05.2020
À partir de 14:00
Lieu
A link to the webinar will be sent after registration.
Professor Stijn Viaene compiled years of research on digital transformation into his new book. Learn from the author how organizations can go beyond the hype and actually implement digital transformations by focusing on organizational agility and leadership.
In recent years, all things digital have been evolving at lightning speed. As a result, digital turbulence has become the new normal. It is now time to take stock and turn that turbulence into stability. What have we learned so far? What do we know? What can we take as a fact? What is the impact of the Covid-19 pandemic?
Professor Stijn Viaene compiled several years of research for practice into a new book aptly titled "Digital transformation Know How". Digital transformation is defined as an end-to-end, integrated business transformation in which digital technology plays a dominant role.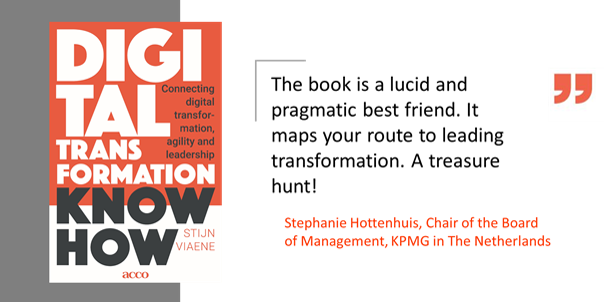 In this book, Stijn emphasises the role of customer experience, data and analytics, platform partnerships, organisational agility, and leadership. It offers a minimum viable language and reference framework for all to align in transforming and bouncing forward with confidence. Cases are included, not from the usual suspects, but much closer to home.
We offer this session to our students and decided to open it up to alumni and other people in the HEC Liège community, because of the importance of thinking through a digital transformation, especially in times of immense acute challenges and turbulence.
We invite you to send your questions for Stijn beforehand to willem.standaert@uliege.be.
Programme
14:00

Webinar with Professor Stijn Viaene

15:00

End of the webinar
Intervenants
Stijn

VIAENE

Stijn Viaene is a professor and partner at Vlerick Business School, where he serves as the director of the focus area Digital Transformation. He is also a professor at the Research Center for Information System Engineering (LIRIS) at KU Leuven. Stijn provided a keynote session at the inauguration of the HEC Digital Lab and now he is back at HEC Liège to share an update.
Retour aux événements